CDE Lightband is proud of our place in the community.
Being the City of Clarksville's electric and fiber to the home broadband provider, it is our responsibility to be a strong part of this community. Clarksville is our home too, and we want to make it the best place to live, work and raise your family. We focus our support on the main areas of Education, Growth and Promotion.
Serving Others
Each year, our combined efforts make a positive difference in the community we serve and are at the core of the public power model — serving people to make life better. Our efforts focus on a number of initiatives, including:
Promoting careers in science, technology, engineering & math through our partnership with CMCSS
Volunteering at various organizations through the Helping Hand Program
Collecting toys for the Salvation Army and food for families at Loaves & Fishes
Partnering with United Way of the Greater Clarksville Region to address critical community needs
Raising funds for Project Help to assist customers with their bills
Educating the public on how to save energy and dollars
Donating supplies to support the Humane Society
Raising money and awareness to help support breast cancer survivors at the YMCA
Education
CDE Lightband is proud to partner with the Clarksville-Montgomery County School System. We are a proud supporter through the 'Partner in Education' in partnering with the STEM Academy at Kenwood High School. Both monetary and time commitments are made each year to this worthy group of up and coming Science, Technology, Engineering and Math focused students, and we grow as much as they do to experience their learning in the electric and wireless technologies. CDE Lightband also connects with schools all across the Clarksville-Montgomery county area by providing Career Day discussions, reading to classes, donation drives, and most importantly: Safety Demonstrations.
Awards
APPA RP3 Award
American Public Power Association presents CDE Lightband with the highest achievable Reliable Public Power Provider (RP3)® designation, the Diamond Level, for providing reliable and safe electric service.
The RP3 designation, which lasts for three years, recognizes public power utilities that demonstrate proficiency in four key disciplines: reliability, safety, workforce development and system improvement. Criteria include sound business practices and a utility-wide commitment to safe and reliable delivery of electricity. CDE Lightband joins more than 275 public power utilities nationwide that hold the RP3 designation.
"Receiving an RP3 designation is a great honor and demonstrates a utility's commitment to implementing industry best practices in utility operations," says Aaron Haderle, Chair of the Association's RP3 Review Panel and Manager of Transmission and Distribution Operations at Kissimmee Utility Authority, Florida. "RP3 utilities are consistently looking to improve their workforce, system reliability, and safety to serve their communities better."
"This is a great honor," said Brian Taylor, general manager of CDE Lightband. "We take a lot of pride in the work we do to power our community. It's nice to be recognized as among the 'best of the best' on a national level and would not be possible without our employees and their commitment to our customers."
STEM Partner of the
Year Award
CDE Lightband was honored with the STEM Partner of the Year award in 2016 and 2017 at the Clarksville-Montgomery County School System (CMCSS) Partners in Education Breakfast. The recipient of the STEM Partner of the Year contributes to STEM programs through activities such as teacher externships and classroom demonstrations. These partners are committed to helping teachers make concrete connections to math and science standards taught in the classroom, potential career paths for their students and community issues.
TMEPA Community Service Award
CDE Lightband was presented the Community Service Award by the Tennessee Municipal Electric Power Association (TMEPA) during their annual conference held in Nashville, TN earlier this month. This honor is awarded to recognize the commitment CDE Lightband has to the community and provides opportunities for their employees to volunteer and be more involved in the city in which they live and work.
"I am honored to receive this award on behalf of our employees," said Brian Taylor, general manager at CDE Lightband. The staff at TMEPA really pulled a surprise and kept this award a secret until I passed the gavel. What a great way to end my presidency at TMEPA. We are very fortunate that our employees are committed to giving back to our community."
TMEPA accepts nominations for this prestigious award each year, evaluating electric utilities in each of three categories; large systems of over 30,000 members, medium systems from 10,000 to 30,000 members, and small systems under 10,000 members. As a large-sized electric utility, CDE Lightband was measured by their efforts to improve the social, cultural, educational, or economic environment of their communities, by their opportunities for employee involvement and by demonstrating sustained performance and achievement as a member of TMEPA.
Tree Line USA Award
The Arbor Day Foundation has named CDE Lightband a 2020 Tree Line USA® in honor of its commitment to proper tree pruning, planting and care in the provider's service area. Tree Line USA, a partnership between the Foundation and the National Association of State Foresters, recognizes public and private utilities for pursuing practices that protect and enhance America's urban trees. Tree Line USA promotes the dual goals of delivering safe and reliable electricity while maintaining healthy community forests.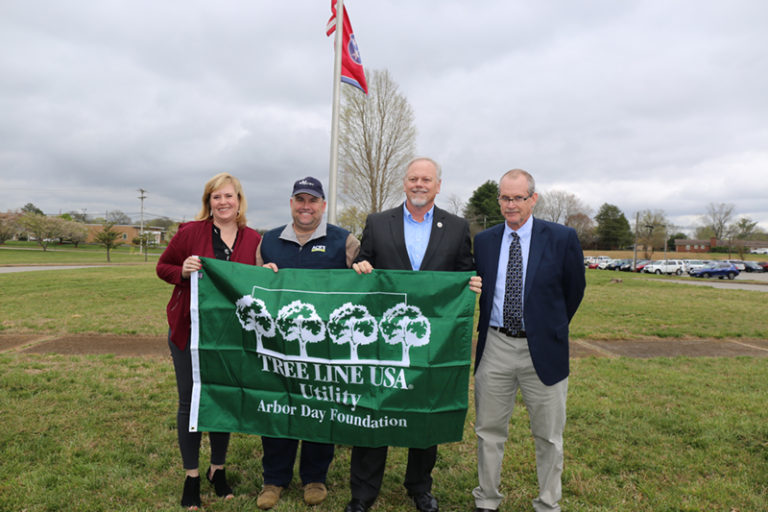 "Trees are a critical part of urban landscapes all across the United States," said Dan Lambe, president of the Arbor Day Foundation. "They provide important benefits to residents, including clean air, clean water and a tolerable climate. Service providers like CDE Lightband demonstrate that it's possible for trees and utilities to co-exist for the benefit of communities and citizens."
CDE Lightband achieved Tree Line USA by meeting five program standards. Utilities must follow industry standards for quality tree care; provide annual worker training in best tree care practices; sponsor a tree planting and public education program; maintain a tree-based energy conservation program; and participate in an Arbor Day celebration.
"It is an honor to be recognized for the 2020 Tree Line USA® for the seventh consecutive year. Our dedication to vegetation management provides reliable electric and broadband services to our customers. Without the support of the Power Board and the diligent work of the right-of-way maintenance team, this program would not be possible."
More information about Tree Line USA can be found at www.arborday.org/TreeLineUSA.
Safety Demonstration Trailer
Our tailor made Safety Demonstration Trailer will walk you through each step of our lineman and engineers up through the fiber connection to your home which allows your meter to be read remotely and provide your home with the fastest internet speeds, television and phone. Our trailer also offers a 15 foot pole that allows our lineman the capacity to show climbing demonstrations with their full safety gear on so all students and viewers get the full effect.
Growth
CDE Lightband is also focused on the Growth of our city and economy. We work with our local Economic Development Council, Chamber of Commerce and many other civic groups throughout the city to bring the best to Clarksville, TN. Our high speed fiber optic internet is the fastest available, and this service has the opportunity to attract and retain innovative businesses to the Clarksville area.



Promotion
Promotion of our great city of Clarksville and those that live within and around are an important part of everything we do. We are proud to call Clarksville, TN, our home and service area and continue to work to make it the best we can.
One area we strive to do that is by helping those in need through Project Help. It is a voluntary program administered by the Clarksville-Montgomery County Community Action Agency that allows customers to add $1.00 or more to their monthly bill to assist the elderly, handicapped and those in economic crisis with their energy costs. Call 931-896-1800 for more information.
TN Connections Magazine
To check our latest Tennessee Connections magazine, please click the image to download a copy!