During the month of March, we give a little extra attention to all of the amazing accomplishments of strong, determined women. Since 1987, the United States has formally recognized March as National Women's History Month. Every woman has a story to tell and gifts to share with the world. So get ready, because this month is about honoring magnificent women and we are ready to celebrate it to the fullest.
Did You Know? Women's History Month started as Women's History Week.
Here are some little known facts about some extraordinary women.
1893 – Engineered the Way
Bertha Lamme became the country's first female engineer when she took a job at Westinghouse Electric Corporation.
1920 – Women Win the Right to Vote
Women are granted the right to vote, thanks to the 19th Amendment.
1981 – A Woman's Place is in Court
Sandra Day O'Connor is the first woman appointed to the United States Supreme Court.
1983 – Women Go To Infinity and Beyond
Sally Ride becomes the first woman in space.
How to observe National Women's History Month
Put it in writing. – Think of a woman you look up to and admire. Write her a letter describing the impact she had on your life.
Have a girl's lunch. – Lunch, breakfast, dinner – it doesn't matter.
Study up on Women's History. – There are some excellent museums dedicated entirely to the accomplishments of women.
Why National Women's History Month is Important
We have not given women their due attention. – For many years, women were not acknowledged in historical texts. In March, we dig deep to uncover many of the important roles women played throughout history.
Women Are Inspirational – Learning about women who have stood up for their rights and fought for what they believe is fantastic motivation. We all have the power to influence the direction our world is headed in, and National Women's History Month reminds us of that.
It Recognizes the Strength and Power of Women – It's easy to get caught up in the grind of daily life, but this month is an excellent opportunity to put a spotlight on all of the major things women accomplish each and every day. From domestic chores and carrying babies to fighting wars and governing countries, women are pretty darn amazing.
Drafting a New Path for Women – There are more women today in the field of engineering than years past, but even today less than 25% of engineering degrees are earned by women.
"The success of every woman should be the inspiration to another. We should raise each other up. Make sure you're very courageous: be strong, be extremely kind, and above all be humble," said Serena Williams. As we reflect on Women's History Month, we focus on the pivotal changes these women have contributed in American history. We want to recognize the array of achievements in their specific fields. Each history maker was hand picked by our Diversity Council to honor their successes. Let us raise them up, recognizing their momentous accomplishments.
History Makers
Wilma Glodean Rudolph was born June 23, 1940 in the Clarksville area of St. Bethlehem into a family of 22 children. Rudolph was the youngest member, 16, of the 1956 Olympic US track and field team. She won her first medal, a bronze in the women's 400-meter relay. The following 1960 Olympics in Rome, Italy, she showcased her athleticism. She received three gold medals in the 100-meter race, the 200-meter race and the 400-meter team relay. She was the first woman from the United States to receive three gold medals in one Olympic Game. Rudolph won multiple awards including the 1961 Sullivan Award as America's Outstanding Amateur Athlete and in 1960 and 1961 the Associated Press Female Athlete of the Year Award.
At the tender age of four, Rudolph contracted pneumonia and polio, leaving her temporarily paralyzed. Doctors were certain she would never walk again. Determined to beat the odds, Rudolph joined the girls' basketball team at Burt High School. Her high school coach gave her the nickname "Skeeter" (for mosquito) because she was so fast. Professor Ed Temple at Tennessee State University recruited Rudolph to his collegiate track team as he was impressed by her speed. A year later, she was competing in the Olympics. After her major achievement in the 1960 Olympics, Clarksville hosted its first biracial, unsegregated parade and ceremony honoring Rudolph's accomplishment. After competing, she went on to teach, coach and run a community center. Diagnosed with a brain tumor in 1994, she deteriorated quickly and passed away on November 12, 1994 at the age of 54. She was buried at Edgefield Missionary Baptist Church near the Mason Rudolph golf course. Wilma Rudolph Boulevard was dedicated to her in 1994. A life-sized bronze statue of her has been placed at the Wilma Rudolph Event Center on Hwy 48. Even to this day, Wilma Rudolph's legacy is thriving within the city of Clarksville.
In January 1994, several hundred protesters walked from Burt School to the end of Guthrie Hwy including our very own CDE Lightband employee, Annette L. Allen, to change the road name to Wilma Rudolph Blvd. Wilma Rudolph and her five children participated in the event.
Annette Allen shares her experience, "At that time, I did not realize what an impact she made on the City of Clarksville. I thank God for being a part of history. When I was walking, I had no idea that God was going to bless me to become an employee at CDE Lightband on January 5, 2009, and to write about such a woman as Wilma Glodean Rudolph. Women's History Month is a month for me to ponder on all the accomplishments and setbacks we've had as women. It is time to reflect on the work that still needs to be done while rejoicing of the many inspiring women leaders that I look up to for empowerment. One of Wilma Rudolph's famous quotes, 'Winning is great, sure, but if you are really going to do something in life, the secret is learning how to lose.' Nobody goes undefeated all the time. 'If you can pick up after crushing defeat, and go on to win again, you are going to be a champion someday.'"
Kamala Devi Harris is an American politician and attorney serving as the 49th Vice President of the United States. She is the United States' first female Vice President, the highest-ranking female official in U.S. history, and the first African American and first Asian American Vice President.
She was elected Vice President after a lifetime of public service, having been elected District Attorney of San Francisco, California Attorney General and United States Senator.
"My mother would look at me and she'd say, 'Kamala, you may be the first to do many things, but make sure you are not the last," said Kamala Harris.
This statement and many others motivated Kamala to push past the many barriers she faced as a woman to reach one of her greatest accomplishments, becoming Madame Vice President.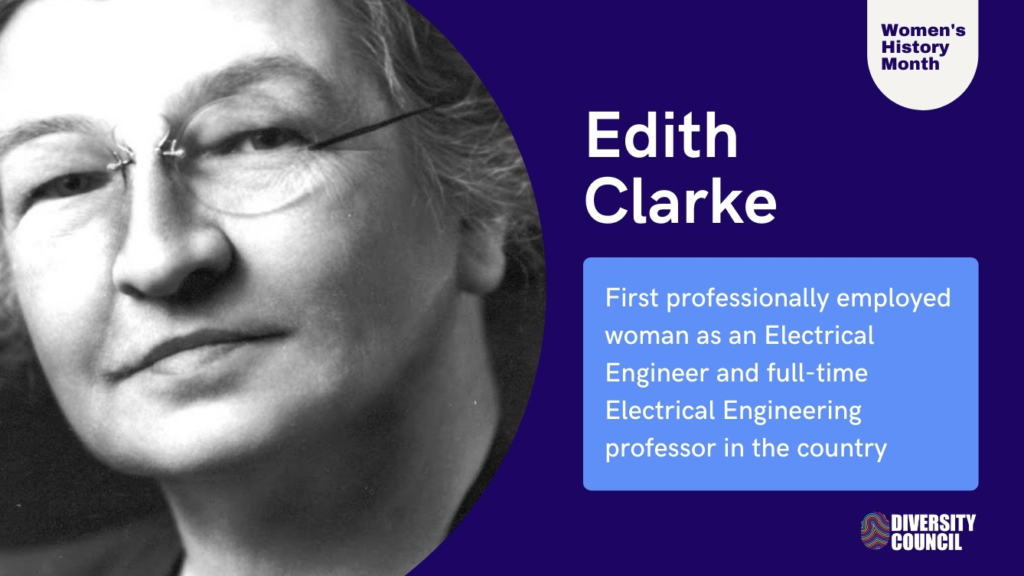 Edith Clarke was the first professionally employed female Electrical Engineer and the first full time female professor of Electrical Engineering in the country. She was a pioneer in electrical engineering who used math to improve our understanding of power transmission.
She began her career as a "computer" (literally a human calculator) in support of the engineers working to build the first transcontinental phone line.
Her most famous contribution was the "Clarke Calculator" in 1921, a graphical device that simplified the equations electrical engineers used to understand power lines. It was patented in 1925. She was inducted into the Inventors Hall of Fame for this invention.
Clarke helped build the Hoover Dam, contributing her electrical expertise to develop and install the turbines that generate hydropower there to this day.
Clarke used analyzers to gather data about the electric grid, an innovative idea at the time that can be seen as the first step towards "smart grid" technology.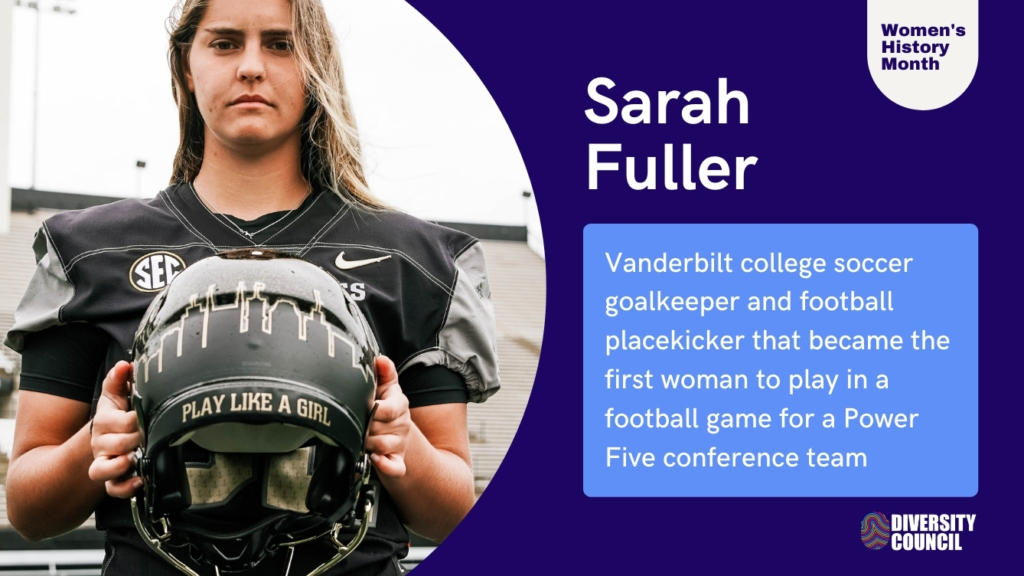 Sarah Fuller (born June 20, 1999) is an American college soccer goalkeeper and a college football placekicker for the Vanderbilt Commodores.
Soccer
Fuller started in nine of Vanderbilt's 12 soccer games during the fall 2020 season, posting three clean sheets with a 7-2-0 record as goalie. She started in all four games during Vanderbilt's 2020 Sec Tournament championship run. On Nov. 22, 2020, Vanderbilt won the SEC soccer tournament to earn a place in the NCAA tournament, to be played April 2021.
Football
Six days after winning the SEC soccer tournament, Fuller became the first woman to play in a football game for a Power Five conference team when she kicked off for the commodores against Missouri on Nov 28, 2020. Two weeks later, she kicked an extra point against Tennessee to become the first woman to score in a Power Five football game. The Power Five conferences are five athletic conferences, which are considered to be the elite in college football in the United States. They are the Atlantic Coast Conference (ACC), Big Ten Conference, Big 12 Conference, Pac-12 Conference, and Southeastern Conference (SEC).
The College Football Hall of Fame in Atlanta is now honoring her accomplishments and is displaying her jersey and her helmet that bears the words "Play like a girl". After making history suiting up against Missouri Sarah Fuller had this to say, "I just want to tell all the girls out there that you can do anything you set your mind to."